Wicked Dollz
the art and imagination of Noelle Hunt
BUY PRINTS T-SHIRTS & MORE!!!
Original Art can be found on my Etsy Shop
NOELLE HUNT ON ETSY
WHERE can you get my art on T-shirts? WHERE can you find high Quality prints of various pieces ? Well look no further you have found the place!
Imagekind produces high quality prints , andyou can chose how the images are framed, size & type of print.( eg matt finish, glossy finish, canvas print.)
I have made T-shirts,mouse pads,cards and magnets advisablethrough Cafe Press.
My mark up on the above mentioned items& prints is minimal . I usually make less than 4$ per item.
RememberI am always open for commissionas well! Although I usually do not repeat a piece,each work of art is unique.

Commissions~
I am always happy to make commissioned paintings. I do commissioned work on gallery wrapped canvas, gessoed masonite, or illustration board in various sizes, from 4x4 to 24x24, or custom sized
Pricing:
My pricing is based on size and medium. I am happy to work with anyone to find a price that fits your budget! (I will paint for dolls.)
As an example acrylic paintings on gessoed gallery wrapped canvas:
8x10: $50 plus shipping
11x14 $70 plus shipping
16x20 or larger $150+ plus shipping
On all commissions, I provide an email photo of the finished commission to you for approval. If you are not satisfied, I will retain rights to re-sell the finished painting.
Please feel free to contact me if you have any questions.

New work being worked on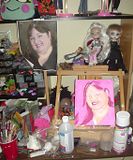 lately I have been working on customizing one of a kind dollz, but have a few ideas for paintings coming up next month. Keep an eye on this spacefor announcementsabout new work!