Wicked Dollz
the art and imagination of Noelle Hunt
Interested in finding out what'shappening in the Wickedworld FIRST?
Join my sporadic mailing list! I promise youwill not receive tons of newsletters! BUT you will be one of the first to know when new work is callable
you can also buy T-shirts etc for the following places whenever you want
I have made T-shirts,mouse pads,cards and magnets avaliable throughCafe Press.
My mark up on the above mentioned items& prints is minimal . I usually make less than 4$ per item.
Rememberam always open for commission aswell! Although I usually do not repeat a piece,each work of art is unique.

Commissions~
I am always happy to make commissioned paintings. I do commissioned work on gallery wrapped canvas, gessoed masonite, or illustration board in various sizes, from 4x4 to 24x24, or custom sized
Pricing:
My pricing is based on size and medium. I am happy to work with anyone to find a price that fits your budget! (I will paint for dolls.)
Please feel free to contact me if you have any questions.

New work being worked on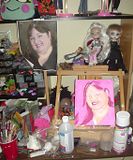 lately I have been working on customizing one of a kind dollz, but have a few ideas for paintings coming up next month. Keep an eye on this space forannouncements aboutnew work!